Bc. Yelena Shadrina, MBA
Senior Financial Accountant, Lendys + Gyr, s.r.o.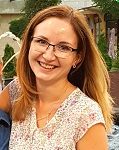 ---
---
I have been thinking about further education for a long time. I carefully chose between the different educational institutions in terms of flexibility, accreditation and tuition fees. In the end I chose ESBM and I'm happy with my choice. All lecturers are friendly professionals with vast experience in the field. You will not only gain theoretical knowledge, but you will also learn how to use it in your working life. From the e-learning I expected online or video lessons, four teaching days supplemented by study materials seemed too little for such a volume of information. Personally, I would like to thank Mrs. Mgr. Michaela Mrštíková for her helpfulness, professionalism, approach and comments during the supervision of my final thesis. I appreciate the excellent human approach of the study department. Thanks to my MBA and the knowledge I gained, I was promoted after a month at work.