Ing. Marek Fojtík, MBA
Commercial Director of Viega s.r.o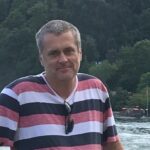 ---
---
An opportunity arose in my professional life that I decided to take advantage of. I felt the need to support this opportunity with new knowledge. I felt that I could use the knowledge, especially in the fields of people management, marketing and business economics. In my previous practice and in my graduate studies, these fields were completely out of my interest and I felt a great handicap here. For this reason, I decided to study and gain knowledge at the MBA level.
For a long time I carefully chose a school that would suit me, both in terms of the scope of my studies, my timetable and, last but not least, my financial possibilities. My best choice (and I didn't know how to use SWOT analysis yet) was to study at ESBM. Studying at this school was what best met all my criteria.
And I really don't regret this choice. During my studies at ESBM I obtained a lot of interesting and useful information. I use this information successfully in my working life.
I'd like to give one example of how acquired knowledge helps. My studies began in September 2019 and when I heard about the need to create a crisis plan for an organization in one of the first lectures, I just smiled inside, thinking something about it being a pure waste of time. But then COVID 19 swept through the world and everything is different. All I had to do was to look up the information in the lecture notes and the recommended literature, and I could immediately think of possible strategies on how this new and unexpected situation could damage the company and how to defend against possible impacts.
ESBM has a team of great teachers, both from the university environment and from practice, and the study department is also great. Everyone is very helpful and accommodating. I regret that I didn't decide to study earlier. Thank you all from ESBM for your attitude and fingers crossed in this difficult time.
I will also add a message to all potential students: don't be afraid to choose to study at ESBM too, because I know you will choose well, as I did.