Ing. Nora Lauková, MBA
Managing Director of F.A.M.E., s.r.o.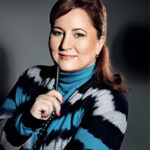 ---
---
Like all of us, it is the role of an educational company to move people forward and help them grow. This is a way for people to reflect on what is necessary and important in life. It has been very important for me to acquire as much knowledge and skills as possible in my life that I can pass on to my clients. In order to improve my understanding of managerial and client needs I decided to study Management Psychology at the European School of Business & Management SE. Studying at this school was no accident. The overall concept, the clarity of information, the variety of study programs, the expert lecturers and the references convinced me that this school is the right choice. During my studies, the quality, approach and professionalism of this institution was only confirmed. I would like to acknowledge and very positively evaluate the personal, expert and professional approach of the lecturers, the study department and all those who contributed to making this study so interesting, procedurally and humanly manageable and rewarding. I highly recommend this school to everyone because you will find quality, professionalism, expertise and practice, and I believe that this school will broaden your horizons, help you to progress and grow.