Kateřina Koubová, MBA
Chief Executive Officer, Education and Language Agency Lepší známky, s.r.o.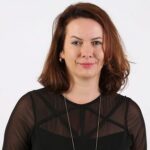 ---
---
I had been considering an MBA for a long time. It was not by chance that the opportunity to start studying at the ESBM came through my work activities. I was deciding for a while, because I'm very busy with work, whether I could manage it at all. Education has been a big theme throughout my life, intertwining with my work life and also influencing my personal life to no small extent. Finally, I started studying. I was pleasantly surprised by the quality of the seminars themselves, the professional guidance of the lecturers and also by the willingness and helpful attitude of the study department. The website itself is clear and easy to understand. Every student can find what interests him or her, and that's what he or she focuses on while studying. I like to participate in workshops on various practical topics. There is a pleasant atmosphere and an interesting discussion often develops with the lecturer. For me, it was the best investment in education and managerial knowledge. I definitely recommend it to anyone who wants to move on in life and get recommendations and information from more experienced people. I am considering pursuing a DBA.