Richard Jurák, MBA, LL.M.
Facility Manager, One Planet,One Business s.r.o.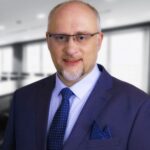 ---
---
Most people want to accomplish something or be something in their lives, so they set various milestones in which they fulfill their dreams and desires. I as well had and have my milestones. One of them was postgraduate studies, which is why I started studying at the age of 50+. Like everyone, I was faced with the question of what school to choose. I did a careful analysis and out of all the schools that offer postgraduate studies, ESBM clearly stood out to me. Their training system, the approach and professionalism of the lecturers, the modules and workshops themselves are very inspiring, motivating and of a high standard. Not forgetting the excellent and professional ESBM team. Thanks, I really couldn't have done it without you! That I recommend the school, that it is beneficial, and that I was really very satisfied, is proven by the fact that after successfully completing my postgraduate studies in the MBA program, I smoothly continued my LL.M. studies. I would like to wish all those who are studying, want to study or will study at ESBM the best of luck and a successful completion of their studies. For those who are hesitant, studying at ESBM is a real benefit, I highly recommend it.